BROTHERS IN ARMS
Spc. Nick Ganey and two other soldiers in his unit were inside an armored vehicle when an IED flipped it upside down. They all survived and regrouped, somewhat shaken, at the hospital.
Return to Gallery Six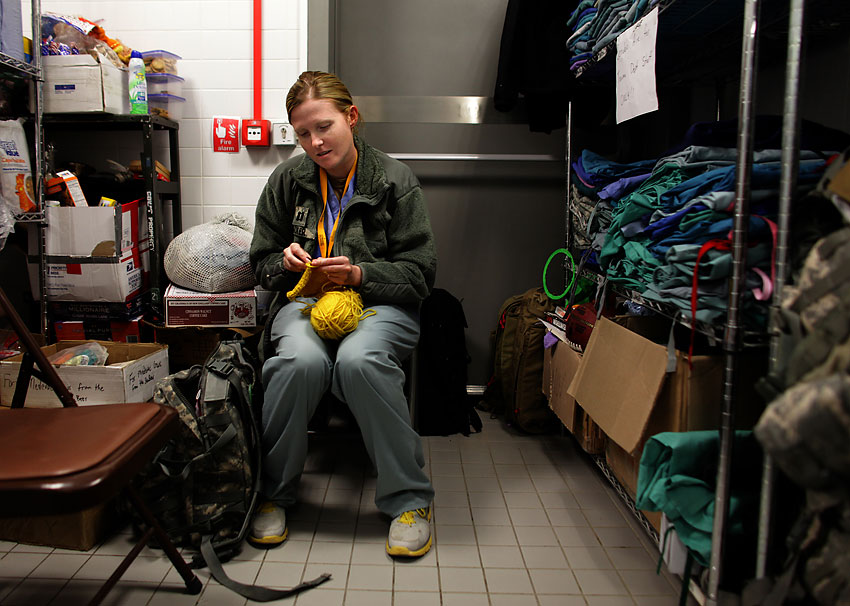 Lt. Stefanie Tucker, a Navy reservist and member of the hospital's "Combat Knitters" club, practices her stitches in a supply closet near the trauma department. Other members of the staff find distractions at the gym, in books or movies, or with the hospital's hockey team, which plays at a small wooden rink across base.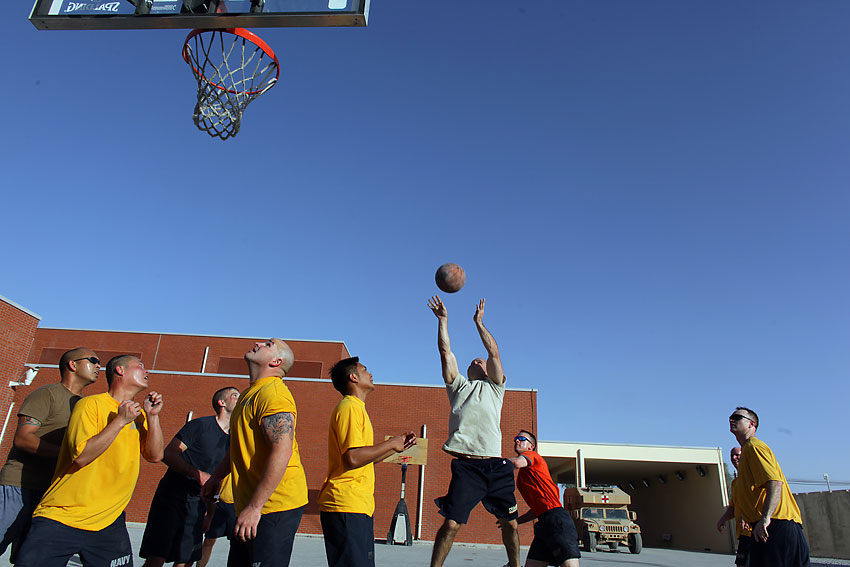 Staff members play basketball on a court outside the hospital. For many, it's a way of relieving stress. Although it's offered, few members of the hospital staff attend counseling to help them deal with the things they see here. Ask why and nearly all of them give the same answer: They'd rather talk to each other.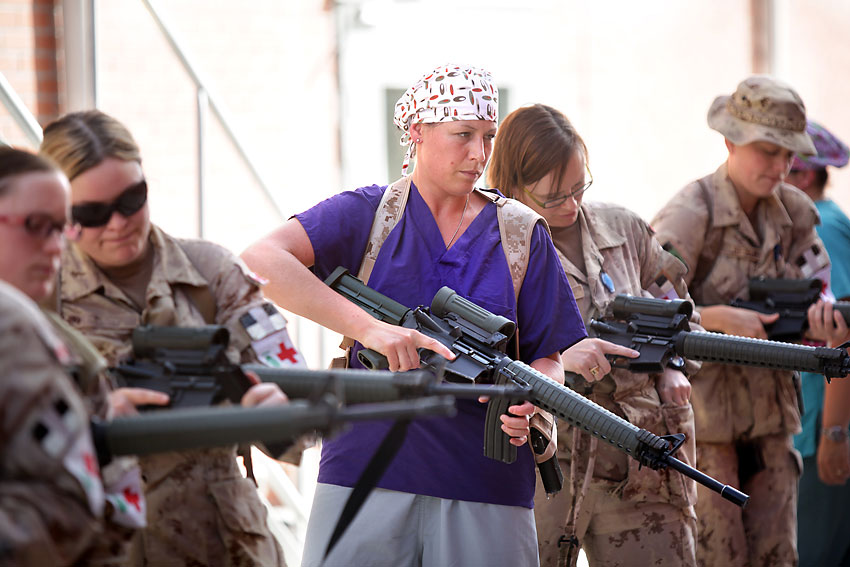 Marie-Claude Desharnais, a master corporal and dental technician from Canada, scans downrange during a weapons training exercise. The Canadians drill twice a month with their firearms. After all, their hospital is in Kandahar, the spiritual birthplace of the Taliban.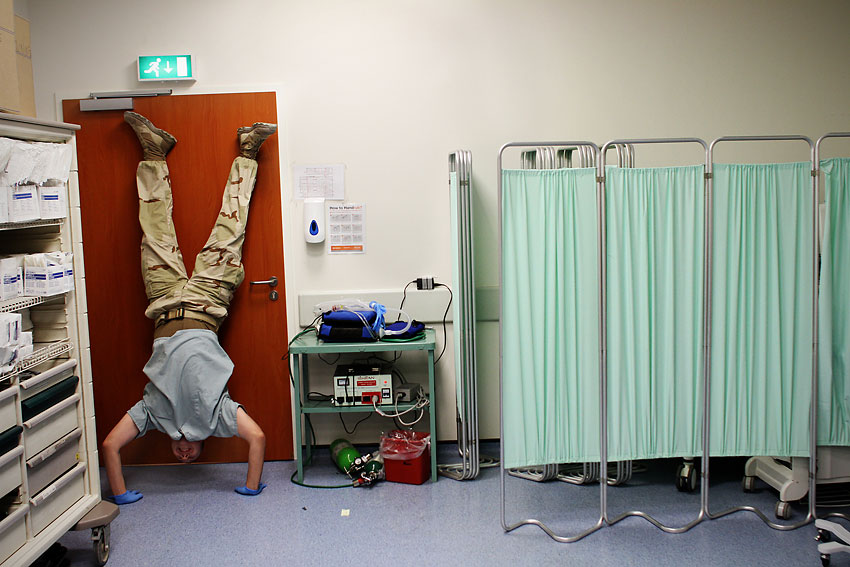 Lt. Cmdr. Tom Shu uses a few moments of downtime to do a handstand push-up in the ICU. The nature of the work here "takes away your tolerance for people who complain about things that don't matter," he says.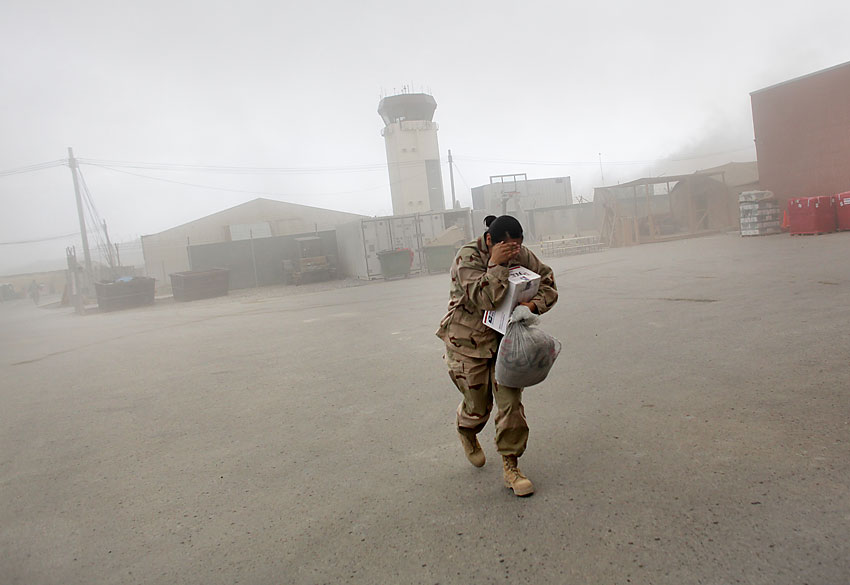 Petty Officer 1st Class Jessica Ponce runs while carrying her laundry and mail through a sandstorm outside the hospital. Storms like this are commonplace in Afghanistan.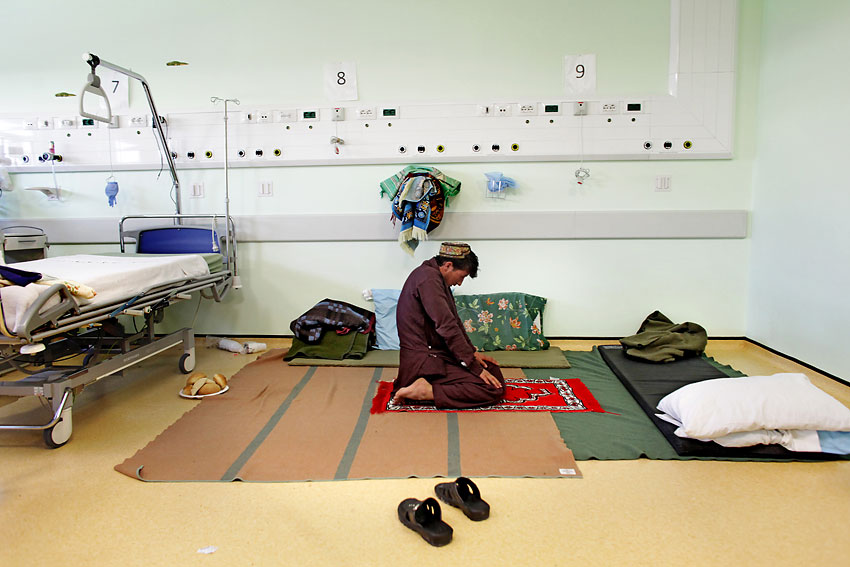 Abdul Llah, whose brother was hit by an IED, prays in "the village," a corner in the combat hospital where the beds have been wheeled away and blankets and sleeping mats have been laid out for relatives of Afghans. All Afghan patients and relatives who accompany them are thoroughly searched before they're allowed in, including babies and the gravely sick, for fear that insurgents will try to slip a suicide bomber inside.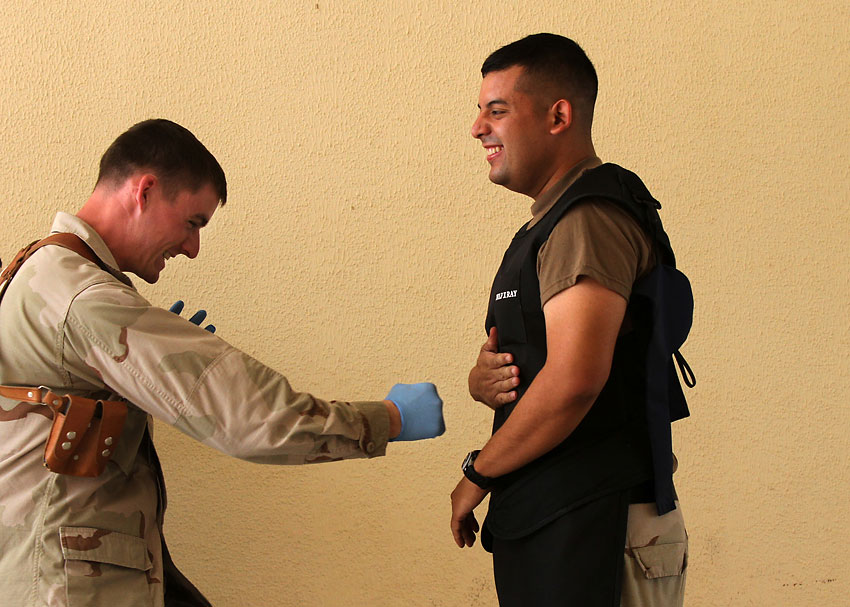 During a quiet moment, Seaman Aaron Jones jokes around with Petty Officer 2nd Class Juan Carlos Hernandez, a fellow hospital corpsman.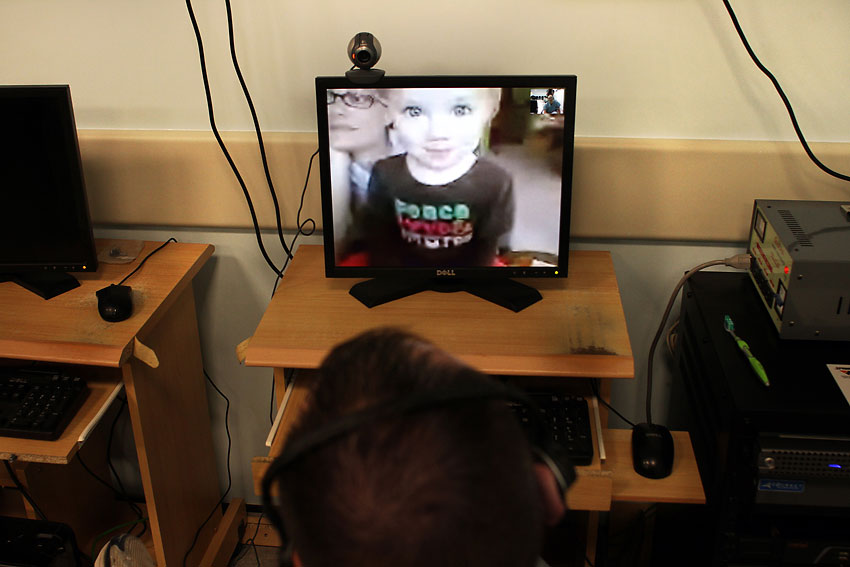 Lt. Cmdr. David Shellington, a pediatrician based in Portsmouth and the only pediatric intensive care physician in Afghanistan, speaks with his 18-month-old daughter, Sydney, and wife, Tammy, over Skype at the hospital. He has decided to leave the Navy after this deployment.
Return
Return to Gallery One